Free shipping on orders above $75.
Same day shipping on orders in by 2PM EST!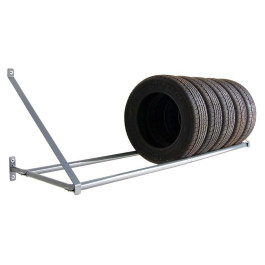 $172.71
A clean and well-organized garage, tire shop, or car dealership starts with quality tire storage rack(s). The Martins Industries Wall-Mount Tire Rack Rack does that for you. With its adjustable rear cross bar, it will be suitable for a wide range of tire sizes, simply slide and tighten the cross bar to the desired depth for a perfect fit. Metal studs, wood studs or concrete block walls, the Wall-Mount Tire Rack can be installed wherever it's needed; great tire rack for garage.